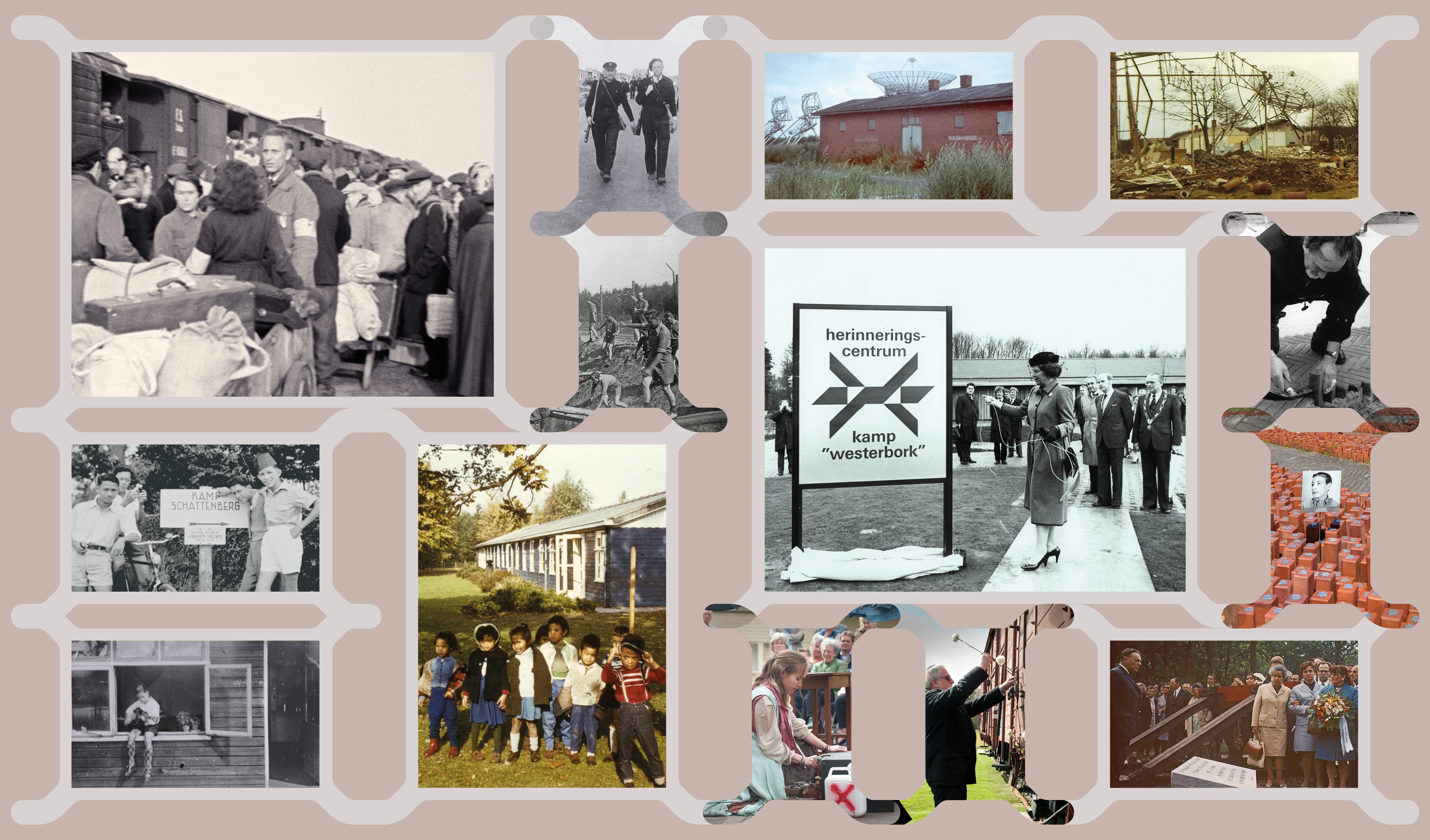 The Camp Westerbork Memorial Centre has won the Call for Support awarded by the European Union and the Council of Europe for its exhibition The Memory of Camp Westerbork. Researcher and exhibition curator Bas Kortholt has been invited to present the project at the European Heritage Label Award Ceremony in Brussels on Tuesday, 14 June. The Memory of Camp Westerbork Remembered explores the many recollections and meanings associated with the historic site over the past 76 years. It will be on view at Camp Westerbork's museum from 8 July.
Camp Westerbork was the site from which more than 100,000 Jews, Roma and Sinti people were transported to extermination camps in central and eastern Europe. But before it became a transit camp, Westerbork was a refugee camp where large groups of foreign Jews were housed. It was also where dozens of members of the resistance were shot dead during the Second World War.
Camp Westerbork as a 'site of memory'
Camp Westerbork is also the place where, for more than two decades thousands of Moluccans were 'temporarily' housed. And it was where Indo Dutch people (individuals of mixed Indonesian and European ancestry) were received, soldiers trained and Dutch citizens suspected of Nazi collaboration interned. Camp Westerbork is a site of many meanings and associations: monument and museum; concrete and abstract; authentic and staged. Local, national and international heritage. Past and present.
Repository of transferable stories
The exhibition The Memory of Camp Westerbork explores how we have handled our memories of the war over the past 77 years. Part of the exhibition is devoted to interpretations by eight guest curators, who in turn present their own view of Camp Westerbork's past and present. The first guest curators (July-September 2022) are the Jewish survivors and relatives Rozette Kats, Betty Schols-Meents, Alex Freddy Kan and Naomi Eliasar. Camp Westerbork plays an important role in each of their lives, as a memorial to deported and murdered loved ones.
Written out of family history
What place do perpetrators occupy in our collective European memory of the Second World War? Three international teams of artists have explored the topic of perpetration and perpetrator history in Houses of Darkness, a joint project with Gedenkstätte Bergen-Belsen (Germany), Falstadseneret (Norway) and Paradox. The award-winning Dutch-American duo Jongsma + O'Neill have produced His Name is My Name, an animated documentary series which examines how the crimes of Second World War perpetrators still resonate in today's society. It is also the personal journey of one of the makers: Eline Jongsma. The documentary launches on Instagram on 8 July and will also have a place in the exhibition.
Over the coming 16 months, seven further themes will be explored as part of The Memory of Camp Westerbork, including archaeology, heritage, the visual arts and photography. Museum displays, lectures and theatre performances from the perspective of the Sinti, Roma and Moluccan communities are also being organised. The exhibition programme will be continually updated at www.kampwesterbork.nl.